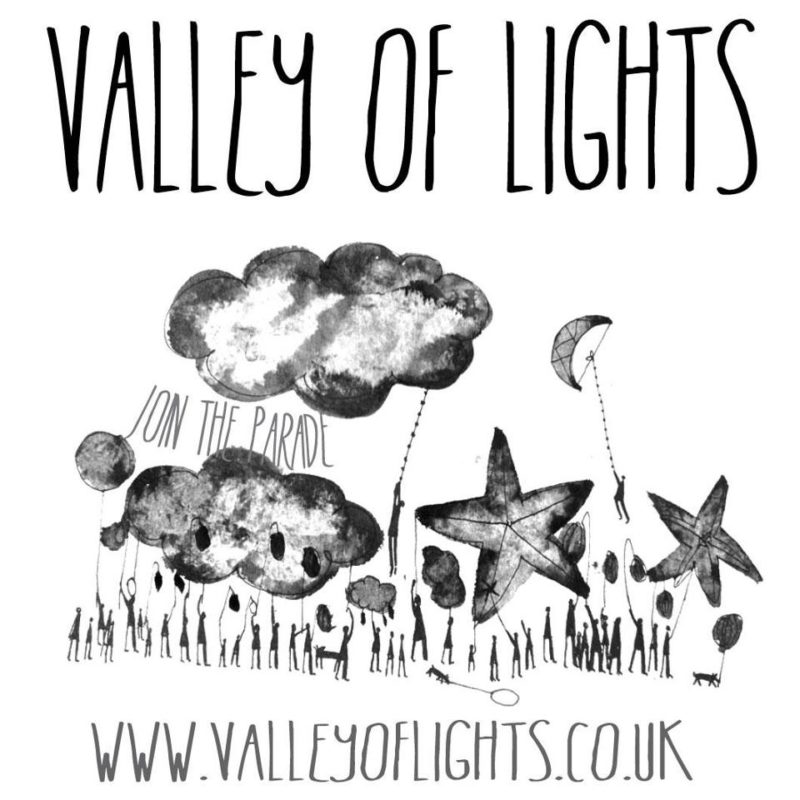 VALLEY OF LIGHTS – WINNER OF THE NATIONAL GOVERNMENT APSE AWARD 2013 – Best Community & Neighbourhood Initiative in The UK
The Valley of Lights was a project designed specifically to improve the Local Economy of the Calderdale Upper Valley area after the terrible floods of the summer of 2012.
I was asked by Calderdale Council, along with my colleague Nigel Goddard, to create something special that would impact the businesses in the area which were so devastated by the flooding & give the people of the towns a much needed boost, while re-connecting them with their community and high street.
Knowing the valley as well as I do made me think much bigger than should have been feasible and the ideas I came up with seemed a bit crazy, but boy did it work! A huge three night celebration of the valley, with symbolic linking betwen the towns, calling on the hundreds of local performers and arts organisations, celebrating people and place, and boosting the local businesses.  It included hyper-local markets with an emphasis on local makers and shops whos businesses weren't yet open, due to flood damage, fire performers, huge lantern parades, and a 200 bike procession. And we only had 8 weeks to deliver it! Our main partner for the event was Handmade Parade – an organisation I still work with to this day.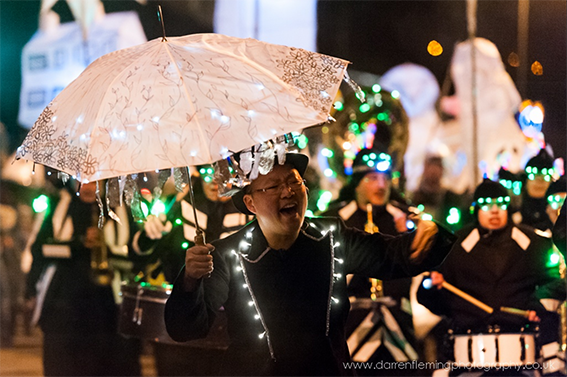 Most people will remember the huge specatacle and good feeling Valley of Lights brought to a valley which had had its fair share of nocks over the previous 2 years. BUT the whole project was built with an aim of driving footfall onto high streets, re-connectiong people with their local shops and businesses, providing a much-needed boost on the run up to Christmas and to counter the negative media that had been saying "The Valley is shut, no shops are open".
Valley of Lights ticked every one of those boxes, and created over £1.5 million in positive PR along the way (see below).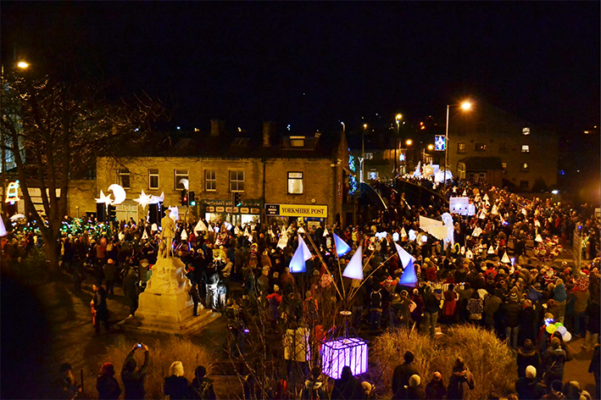 Both Nigel & myself agree that this was the proudest moment of our working lives. And also the most knackering! But…. it was just brilliant!
Comment in The Guardian: "The combined efforts of all involved produced amazing results and an awesome experience of a wide community (spanning the valley – a unprescedented event?) joining together. The end result was jaw-droppingly good and everyone should feel chuffed with themselves. Huge credit to Totally Tocally and to those holding the purse strings who thought this a worthy investment. It will be talked about for years".
Valley of Lights called on everything we'd built on over the previous years, and the huge community love for Totally Locally as a brand. It enabled us call upon businesses, performers, organisations, local authorities, everyone – because they knew this was us helping them to celebrate the place they live. And they pulled out l the stops to make it happen.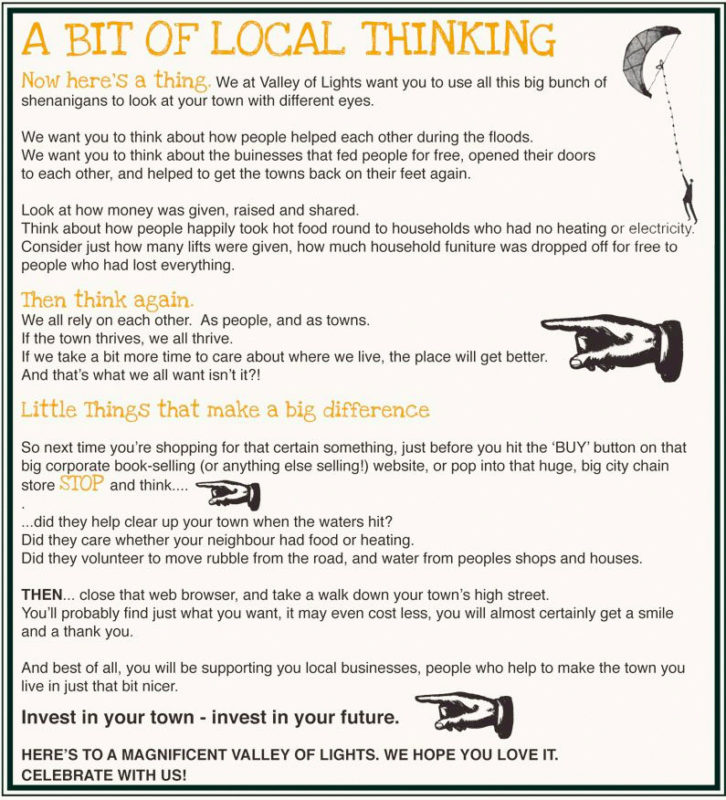 This message hit home the most:
Over 12,500 people turned out to support their communities, with a huge, fire, music & performance spectacular. We held hyper local markets each night with stalls by people from the immediate area, especially those who's businesses were affected during the flood. We created a big campaign for the local shops and businesses using the Totally Locally kits £5 messages, Fiver Fests, Town Maps. An incredible parade was put on by The Handmade Parade people.
It had a huge impact on the shops, and towns, with many reporting one of their best nights of the year. Also reports of an upswing in trade in the following weeks leading up to Christmas. There were a lot of tears, lots of dancing, singing and 3 nights of pure emotion and many, many tears.
We created a Night Light Bike Ride –˜ 200 bikes all lit up in fairy lights, riding through the night (in minus 6 degrees!) symbolically joining the three towns. Crowds cheered, & cyclists grinned (and I got to ride it, despite having just overseen the massive parade half an hour earlier!)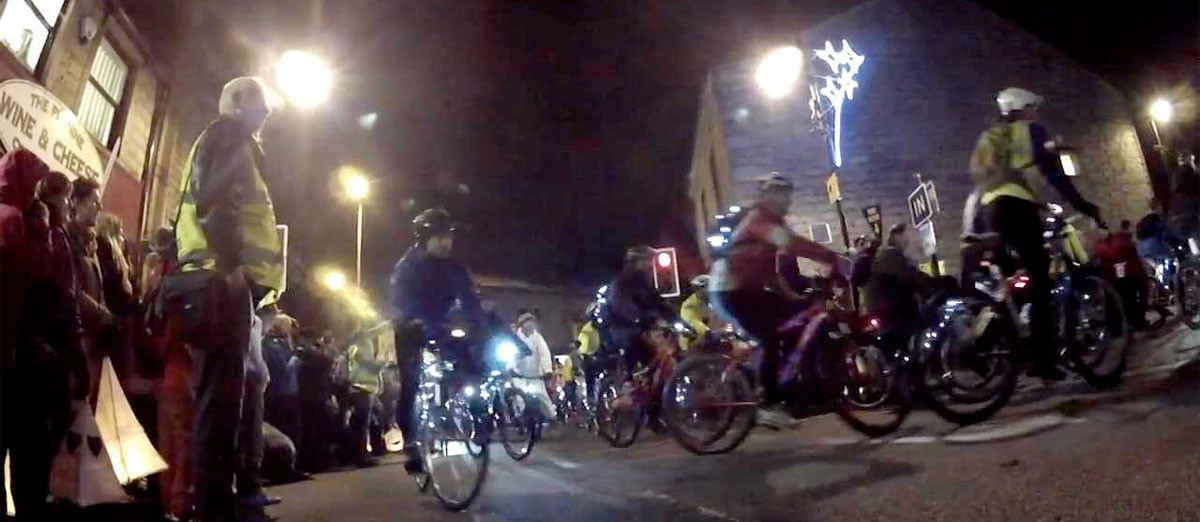 The brief was to get the message out that the Valley and the towns were well & truly open for business, as there had been huge amounts of negative press saying that the area was devastated, so visitor numbers fell dramatically.
The Press coverage Valley of Lights received has been independently valued at £1.5 million (for an £85k investment)!
Many of the businesses reported big upturn in business, and lots said it had made a big difference to takings on the run up to Christmas. So it sort of worked really! Here's what the BBC said>>
Every single performer, maker, supplier and partner (from printers & light suppliers to barrier hire & fire performer!) was from the local valley area, meaning that every transaction or commission we made had a positive impact on the local community. Putting our money where our mouth is!
There has been huge calls for Valley of Lights to happen again, but we decided this was a one-off special event, that could never be repeated. Which makes it even more special.
It really was THAT beautiful!
More info here www.valleyoflights.co.uk
The Guardian ran a feature: here>>>>
The team that made it Happen — LtR Andrew Kim (Handmade Parade) Nigel Goddard, Me, & Hannah Merrimen.